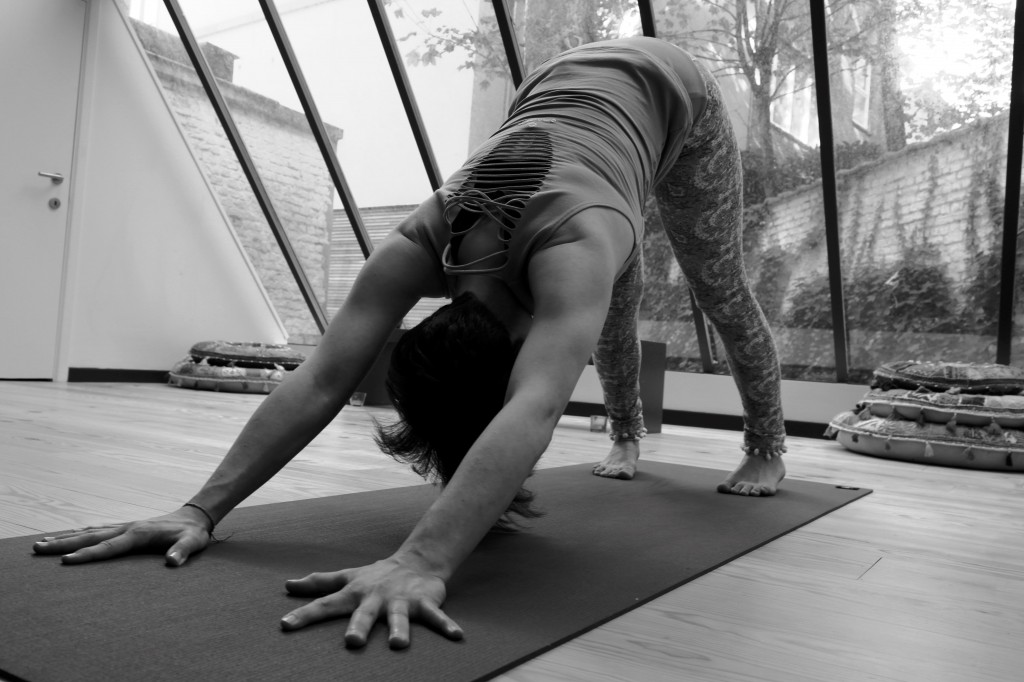 Vinyasa Flow Yoga – a dynamic and creative form of yoga linking breath and movement, tradition and modernity, strength and flexibility. These classes follow the Empowerment Process (c) that I developed for more effective classes on all levels. After a class you feel stronger, energized, empowered and happy!
Yin Yoga, a more static form or yoga, yet as challenging – maybe even more!- as Vinyasa Flow: poses held for a longer duration to stretch and help your body release tensions, to allow your energy to flow smoothly.
In my classes I provide a safe environment for you to explore and play with your edge, while respecting everyone's body.
---
Classes in Ixelles
All classes take place at Serendip Spa, Place Stéphanie 16, 1050 Brussels
MONDAY:
18h-19h: Yin Yang Yoga – my signature class: a mix of Yin Yoga and Vinyasa Flow for a complete yoga experience!
19h30-20h30: Candlelight Yoga – slow deep flow to stretch and relax mind, body and spirit.
TUESDAY:
19h30-20h30: Vinyasa Flow.
WEDNESDAY:
17h30-18h30: Gentle Yoga – to learn or review the basics. Vinyasa-based.
All info and booking through Serendip Spa: www.serendipspa.com or by email: yoga@serendipspa.com
Special classes
Once a month, I offer Interoceptive Yoga classes, based on the exploration of the sensations in our body and making choices according to what we feel. This is a gentle practice accessible to everyone, in a safe space, with no physical touch / hands-on assists.
You can find more info on www.serendipspa.com or you can also contact me to know more.
Rates
Drop-in 45 or 60 minutes: EUR 15
Drop-in 90 minutes: EUR 20
10-class pass valid 3 months:
45 or 60 minute-classes: EUR 120
90 minute classes: EUR 160
Recommendations
Yoga is best practiced on an empty stomach. Give yourself ample digestion time, about 2 hours before class (or have a light snack).
Wear something comfortable in which you can move. No need to bring a mat, all material is available at the studio

It is your responsibility to ALWAYS notify your teacher about injuries / medical conditions / pregnancy. You may need to modify poses so you can enjoy the class fully and still take care of yourself

Classes are taught in French or are bilingual French / English if needed. Even trilingual French / English / Sanskrit. There you go.
All classes are trauma-informed and there might still be some triggers. For a safe trauma-informed experience, you might want to try the Interoceptive Yoga classes. Feel free to contact me for more information.
See you on the mat <3